It's that time of year again! I'm still reading Oathbringer (although much faster now that I'm nearing the end. Which I wish I wasn't doing, but I can't help it – it's just so damned exciting!) and I can reasonably say I won't make any huge discoveries in 2017 anymore when it comes to new books and authors. If I do, it's going to have to be such an awesome one that I'll create an entire rectification post around it. Or, you know, do a review on it and alter this post to fit it in.
When I was first taking stock of my reading year, I thought 2016 had been far better than 2017 in terms of book finds and new loves.  You can even read me saying that in my previous post on my Anticipated YA releases 2018: Part 1 Jan-Jun. But then I checked my Favourite reads of 2016 and realised I've been reading awesome books in 2017 that I thought I had read in 2016 already. But it's not on the list, so it couldn't have happened!
I do have a counter on my Instagram to keep track of how much I read because I like to know statistics. It tells me I've read 57 books (with Oathbringer finished it will be 58).  I didn't track the titles, though, and I really should start doing so. I'm notoriously bad in keeping up my Goodreads lists. Although to be fair, I do love rereading my favourites, so they aren't all new books in that tally.
So, are you ready for it?
.
The Darkest Minds trilogy | Alexandra Bracken
This series is one of my favourite discoveries not just of the year, but overall. I ADORE it. Funny enough, I never could get into Passenger, the first book of her other series, but I might still try it again later on. The Darkest Minds, however, is a gorgeously written series with compelling characters and a plot that continues to evolve. I find it very important that the books I read offer insight into their characters and motivations and the psychological plot is usually more of a priority with my than the action. The Darkest Minds offers both.
I was immediately drawn to Ruby, the way we are introduced to her continues to build upon her character and makes her fit in really well with the story. I did not even mind the insta-love with Liam because seriously – I was instantly in love with Liam myself by the first page. Chubs, Zu and (I almost want to say especially, because antagonists usually aren't) Clancy are also really well developed characters that each had their own distinct voice.
I think that the way Alexandra Bracken layered the story was nothing short of amazing. It progressed from small – just kids trying to survive in a world that viewed them as hostile and dangerous – to big. These kids are actually forced to right a wrong done to them almost completely without help from adults who have their best interests at heart. Who were abandoned by parents who were afraid of them. They carve out their own voice among those of people who never truly realise what they did to these kids.
It just completely resonated with me, I found it so compelling. I read this series as an ebook series which I normally never do. I just have one or two on my phone for emergencies – when I accidentally finish a book too early and still have to take a bus ride home, for instance. I started reading it and I couldn't stop. I read for an entire weekend. And the final chapters had me in constant tears. In the good way.
.
A Court of Wings and Ruin | Sarah J Maas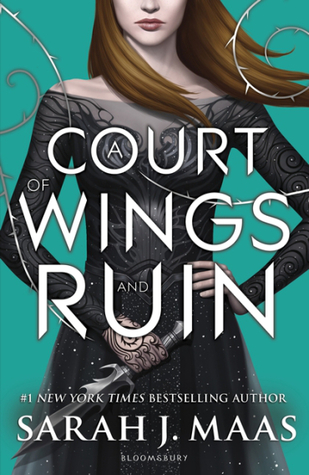 I can't even.  I am so, so happy that Sarah J Maas announced another trilogy in the world of ACOTAR to follow this one (and a novella to bridge the two). As an ending to a series it was both satisfying and not. Satisfying in the way that I finally saw how things would develop with this group of people that – in the back of my mind – I'm a part of. Not satisfying in the way that it still left so much of their lives open and I had to say goodbye already. Luckily, that was why the announced new trilogy felt like balm on a burn.
I have gushed many times on all of my social media channels about how much I love Sarah J Maas. How much I adore and respect and envy the way she writes female characters and the friendships they develop. Don't get me wrong, the woman writes a mean love story, but the friendships are just the best. I want to be part of that group of friends so badly and through these books, I can be.
I must admit I thought the ultimate battle and its wrap-up a bit overfilled with events and emotions, and it started to border on becoming soapy. Hits kept coming: people died, people lived, the Cauldron would or would not co-operate, people left, people stayed… But that is literally only a few chapters and most of these things really did have to be wrapped up. I plan on doing a reread after finishing Oathbringer, because I need to read it for a second time already.
.
Tower of Dawn | Sarah J Maas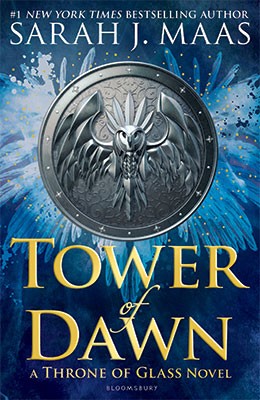 Yes, this one too. Actually, I think that I still can't make a decision on which series I love more. I have been threatening myself to no avail: I can't choose. I love the ACOTAR series and the Throne of Glass series in equal but different ways. Both offer me something the other doesn't, and both have all the things I love.
I actually thought I wasn't going to like Tower of Dawn. I worried about it. I have loved Chaol from the very first, but when the man fell, he fell hard. He never really climbed out of that hole of pity and disdain and envy (obviously, because he had to do it in his own novel) and his attitude towards Aelin was starting to feel hypocritical. I thought it was high time for him to bend, and I never fully stood for his relationship with Nesryn ejust ither. I couldn't see it happening as something true and I was afraid Sarah J Maas would force it.
I'm really happy how it turned out. I fell in love with this book and with the series all over again. I love how Sarah J Maas does that. I was never a big fan of the short story about the healer in The Assassin's Blade and even though I now see why it was in there, I still think it didn't give any relevant information this book couldn't have provided on its own. BUT: the new additions to the cast are awesome people and it tugged at the heartstrings again big time. Can't. Wait. For. The. Final. Book. In. 2018. And OMG, more Chaol again, please.
.
Oathbringer | Brandon Sanderson
Even if I wasn't already almost finished reading it, it would always have been on here. Brandon Sanderson is one of my all time favourite authors and the man can barely do anything wrong in my eyes. I LOVE his worlds, his magic systems, his Cosmere, his characters. It's so intricate, so layered, so incredibly well thought out. I adore almost every character in here, or if I don't, they find a way to redeem themselves.
I used to never cared for Adolin either way (at first), but now I think he is one of the more amazing people in there. Of course, Kaladin will always be my biggest crush of course (Jasnah is a sure second), but Adolin is just so kind and supportive. You can't help but love him. And I really think he doesn't deserve to have to put up with Shallan. He can do better. I have somewhat of a love-hate relationship with her. But Brandon Sanderson always finds a way to tip the scale back in her favour if she goes too far for me. And I think tension is necessary in good books.
Oathbringer is the kind of book you want to savour slowly. I also finally spotted my first Cosmere crossover character. I have to admit, she was quite the obvious one, but I'm counting it anyway. The others I found out about while reading those hardcore fan blogs, that always seem to know things we mere mortals can't grasp on our own. I am sincerely hoping that Brandon Sanderson decides to make book four all about Jasnah's flashbacks. And somehow, after a single conversation, I am shipping her and Kaladin SO hard..
.
Six of Crows & Crooked Kingdom | Leigh Bardugo
Wow. This is a series of which I constantly said while reading: why have I not read this before? It is perfect for me, it really is. It reminded me of a YA Scott Lynch: with the band of thieves and thugs hired to do a job and then accidentally finding themselves in the fight to save their country. Leigh Bardugo immediately became one of my must watch authors after reading these.
The relationships were reminiscent of my most beloved ones throughout literature. Kaz and Inej? Those people are so much like India and Sid in The Winter Rose. Nina and Matthias? Dead ringers for Phèdre and Joscelin in Kushiel's Dart – including pelt coats. And I can't name the other two because then I would start spoiling the fun of their slow boiling romance, but they were so much my favourite couple from Cassandra Clare's books.
So: it had an awesome heist plot that I will fall for any time. It also has awesome relationship dynamics that reminded me of three of my favourite reads. And still, don't mistake me, it stands completely on its own. The Grisha world is so well thought out by now that you can see it in your mind's eye without having to force anything. I really loved it and immediately bought the Grisha trilogy as well (it's in the honorary mentions).
.
Lockwood & Co | Jonathan Stroud
Remember when I said that this was actually a really good year? 2017 was an AWESOME year. And it fully had everything to do with Lockwood & Co. It's a series for younger YA readers, or even from the ages 11-12 and up. But it is a truly great series. And by great I mean that it rises above the really good books into the ranks of quickly becoming classics. It's storyworld is so well thought out that it constantly made me realise that it's about kids who have completely sidelined the adults. When do you see that happening on a national scale (Hogwarts doesn't count, because the parents weren't there and the teachers were authority)?
The ghosts are delightfully freaky and weird, and the mystery behind them is very compelling. I also found myself unhealthily intrigued with Lockwood himself, considering the kid is 15 and I am 32. But honestly, the writing is fun and appears to be light, but it finds itself often addressing poignant issues that have to do with being teens, experiencing devastating loss, growing up and considering your own mortality.
Sometimes you just have a book that you can't form words about. All you can do is stammer, and explain it wrong, and just wanting to push it into peoples' hands and force them to read it. Because then they will understand. That is Lockwood & Co for me. I know these are kids' books, but I think any adult out there will love them. I was seriously detoxing the two months I had to wait for the final book to come out after having read the first four in obsessively quick succession. I have them on my book shelf in the most horrible of ways: first in Dutch. Second and third only as ebooks. Fourth in Dutch. Fifth in English. Nightmares, I have.
.
The Rook & Stiletto | Daniel O'Malley
There are books that are like nothing you've read before. They are, in a certain way, unique. That is what happened to me with The Rook and Stiletto by Daniel O'Malley. And I don't care what anyone else says, I ADORE the information dumps. I mean, I love them anyway, I never mind them. But these are particular gems and I love their frequency.
These books (the series is known as The Checquy FIles) are urban fantasy, which I don't normally read all that often. They have a kick-ass heroine in The Rook, who continues as a (mostly) non-POV character in Stiletto, where two other equally kick-ass women take over. It's all about freaky monsters, really disgusting paranormal outbreaks and a secret society of supernatural people disguised as an innocent government branch.
The premise with which The Rook starts, is that Myfanwy Thomas has no clue who she is. To watch her bluff her way through supernatural problems while their mortal enemies come a-knocking as well, is so invigorating. And her interactions with Ingrid are pure gold. Likewise, Stiletto manages to up the ante by making things more difficult, intricate and horrid for Odette and Felicity. And yes, I know it is a sick, sick thing, but I am very much in love with Gestalt. Just throwing it out there.
.
The Night Circus | Erin Morgenstern
Sometimes a book just quietly creeps up on you and gets under your skin without you realising it immediately. That's what I had with The Night Circus. Again, the sort of book that you can't help but wonder about: why have I not read this before? It's been in my possession for years, I kid you not. I finally decided to start reading it and it's the sort of story – even halfway in you just don't know what to expect.
It is so subtle, I just had to stop at times to admire it. At first, the slow burn made me question why so many people rave about this book. It felt like nothing was really happening, and it took a long time for the fabled contest to start taking place. And when it did, it was indirect and nothing like I had expected. Which was probably what Erin Morgenstern wanted. It was breathtaking, and mesmerising. I fell in love with this book's low key love story.
And just everything surrounding it is so. Damned. Gorgeous. From the completely black and white circus to the gorgeous attractions both leads are creating. From the love story to the background story. It's the lives of so many people all told through that singular love story that anchors it. Because it's about much more, it is about the entire circus. It really is one of the loveliest books I ever read and I highly recommend it. After I put it down, the feeling of love has only grown stronger within me.
.
The honorary mentions:
Neverwhere | Neil Gaiman. Neil Gaiman writes STRANGE books, people. I am incredibly intrigued by Neverwhere and it also confused me a little. It's about the world of the forgotten people of the world, those we consider to be almost (if not all) invisible. That means that everyone is dirty, wears worn out clothes and filthy shoes and eats really unappealing things. But it's also a world in which magic is possible and the juxtapositioning of it all just… threw me.
I think I love it. I really do. But I also think I might not read it again, though I'm really happy I did the first time. It was a very new experience for me and it's the kind of story you'll always carry with you. So thanks to my brother for recommending it to me. And, as an honorary mention within the honorary mention, I very much enjoyed his Stardust novella as well.
.
The Grisha trilogy. I liked this series a lot. The reason I'm putting it in the honorary mentions is because I loved Six of Crows and Crooked Kingdom a lot more. It's difficult when you read a later series first, because the author has developed more as a writer. The Grisha trilogy is a good story, but it also had some plot points that I wasn't sure were all that unique or powerful. It did have a cast of great characters, and I came to really admire Aline.
I didn't do so at first, but her relationship with the Darkling was really good. I wished Leigh Bardugo had explored that more, instead of focusing on Mal. Nothing wrong with the kid, but he was the obvious choice and provided no real friction or soul growth for Alina at all. With the Darkling she could have explored her own sense of right and wrong, which now went a bit unanswered.
With Nicolai she could have had an epic love story born of necessity and admiration – both ways. But that went unanswered as well. I saw such potential for these stories and I kind of didn't like the fact that Leigh Bardugo went the easy route. So that's why – despite it being a really good story – it's in the honorable mentions. Damn you, Mal!
.
How were your 2017 reads?
Tell me about your favourite books of the year in the comments!
.